It's challenging to capture the true essence of Laguna Beach until you experience it for yourself.


The seaside gem of Orange County, Laguna Beach is where people come to live their best possible life. It's equal parts resort town, artist's retreat, and natural preserve. The stunning, idyllic location only enhances one's love of this village of nearly 25,000 fortunate residents, with the shimmering Pacific Ocean to the west and dramatic inland hills framing the city to the east.


This small town also boasts an extraordinarily agreeable climate. The average annual high is 73 degrees; the average low is 52 degrees. Not bad as long as you can handle the abundant sunshine and moderate rainfall of fewer than 15 inches per year!


Amidst all of this beauty and near-perfect climate is an incredibly livable luxury enclave. There's upscale shopping and dining, a wonderfully eclectic after-hours scene, excellent schools and recreational opportunities, and deep-rooted love and appreciation for the arts. The city boasts over 100 art galleries and studios that play host to a wide array of visual mediums.


As wonderful as all of that sounds, Laguna Beach's most remarkable attribute may be its neighborhoods. This beach town features 40 distinct communities — an astonishing number for a relatively small city. It's difficult to choose the best location to call home in Laguna Beach, as they're all desirable and offer their own standout traits. Thankfully, we're here to help. Here are the top communities in Laguna Beach — decide which neighborhood is best for you!
Emerald Bay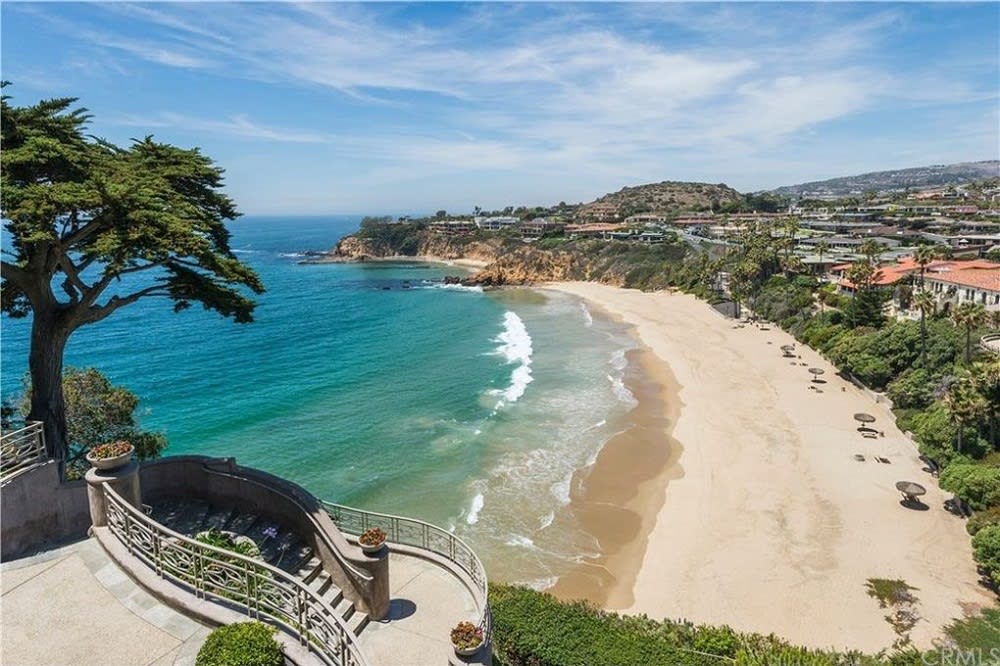 We start our tour of Laguna Beach's most celebrated neighborhoods with Emerald Bay. Arguably one of the best representations of the Laguna Beach lifestyle, Emerald Bay boasts many homes, including quaint, high-end cottages to expansive seaside estates. Several homes feature French and Mediterranean influences.
Emerald Bay is two distinct subdivisions. The most stunning residences are tucked between the North Coast Highway and the Pacific Ocean. Commanding views are the main allure to the collection of homes above the North Coast Highway overlooking the community's namesake private beach and cove.
The large community features gated access and several neighborhood amenities, including a clubhouse and pool. Residents residing in the homes above the North Coast Highway can directly access the beach through an underground tunnel below the roadway. A family-friendly atmosphere prevails, and it proves incredibly welcoming to newcomers. Home prices start at $4 million.
Irvine Cove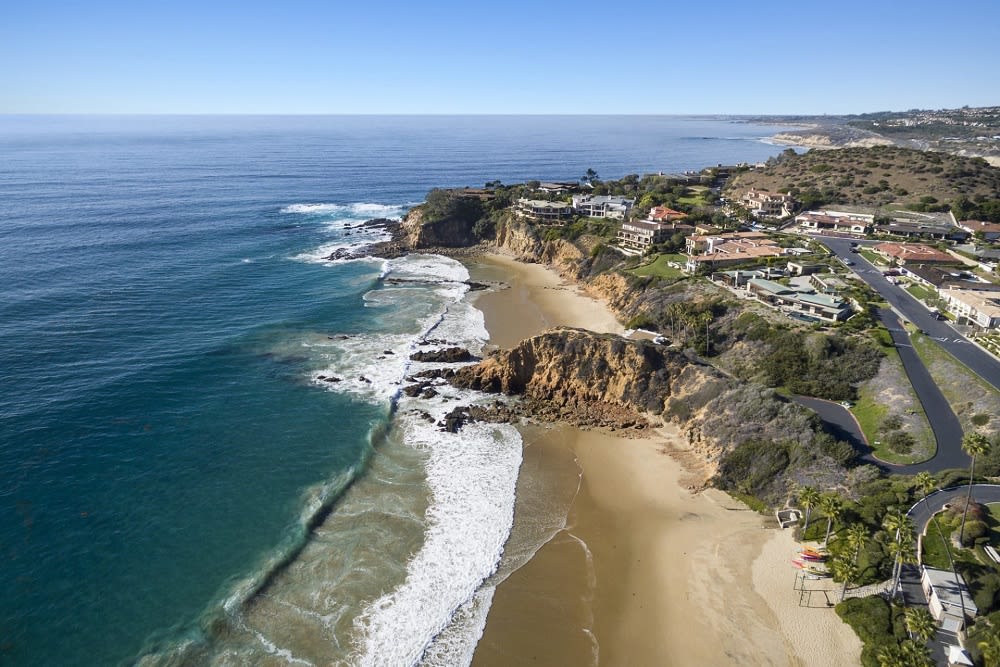 What is effectively a smaller, more intimate version of Emerald Bay, the neighboring Irvine Cove, typifies Laguna Beach's ultra-exclusive developments. Located on Laguna Beach's northwestern point, numerous homes border a state park, guaranteeing no future development. It's one of the city's most secluded neighborhoods.
Situated into three tiers, the upper portion of the guard-gated community boasts homes overlooking the Pacific Ocean and offers owners direct access to the 2,400-acre
Crystal Cove State Park
. Cross the North Coast Highway and enter Irvine Cove's oceanfront setting, where the homes are even grander with beachfront access to Irvine Cove Beach. Finally, the neighborhood's most stunning properties wind their way up and around Abalone Point, sitting atop cliffs overlooking the Pacific.
It's a beautiful community with numerous home styles, including contemporary builds, distinctive Tuscan homes, sprawling mid-century moderns, as well as French and Mediterranean (you'll notice a similar motif across much of Laguna Beach). Homes are rarely available in Irvine Cove, but they're often listed well into eight figures when they are.
North Laguna Beach
If you're looking for some of the most beautiful beaches along the west coast, the North Laguna neighborhood is for you. Popular with snorkeling enthusiasts, divers, and surfers, the beaches along North Laguna provide the perfect SoCal backdrop for outdoor fun. Residents love the flexibility of spending a morning on the water or going for a run along the beach, then heading to a local favorite dining spot for a delicious meal. Conveniently located near all the best restaurants and shopping opportunities in Laguna Beach, North Beach offers a seamless blend of outdoor living and upscale luxury.
Homes in this area range from small, renovated cottages to expansive beachfront mansions — if you're looking for options, North Laguna is a great place to explore various architectural styles and properties. Choose from high-end condos overlooking the water or a small contemporary cottage with a beautiful garden in the backyard — there are dozens of choices in North Laguna Beach!
In addition to these stunning properties, North Laguna residents have access to all major roadways from their small neighborhood — Laguna Canyon Road allows for quick access to the interstate and downtown Laguna Beach. This community also offers fantastic opportunities to connect with local cultural events, as the celebrated
Laguna Art Museum
sits along Cliff Drive and
The Laguna Coast Wilderness Park
offers a trailhead on Laguna Canyon Road. The wilderness park is comprised of over 40 miles of natural trails through Southern California to protect local wildlife and endangered species.
Laguna Royale
When examining the properties and neighborhoods on offer in any coastal location, it's worth exploring a city's stock of condominium homes. Condos are a wise investment for those seeking the lifestyle of oceanfront living without the burdens of caring for a sprawling single-family home. And, when accounting for the opulence and grandeur of a place like Laguna Beach, the city claims some lovely condo accommodations.
Built directly on West Street Beach in South Laguna, the community's terraced, oceanfront units (78 in all) feature an up-close-and-personal view of the Pacific and direct walk-out beach access. It's a prime location close to many of South Laguna's best dining establishments. During low tide, residents can traverse the beach around Aliso Point and stroll along the shore to the highly-rated
Montage Resort
.
In addition to the low-maintenance living, condos are notable for their well-appointed list of amenities. It's here the Laguna Royale truly excels with a spa and fitness center, underground gated parking with a 24-hour attendant, and an oceanfront swimming pool.
The Village / Temple Hills
While much attention on the proximity to the Pacific Ocean, we must not overlook two communities that sit in the heart of the city. Temple Hills, rising upward in the bluffs overlooking downtown Laguna Beach, and the Village, located just below, incorporate much of the downtown area as its own. These two neighborhoods blend seamlessly, creating Laguna's city center — the perfect place to live, work, and play.

Both areas play a critical role in the city's vibrancy. They are the unofficial link between Laguna's upper and lower coasts and are arguably the most traversed neighborhoods in the city.

Temple Hills is part of a trifecta of hillside neighborhoods (the others being Park Avenue Estate and Top of the World) that sit centrally above the city and afford homeowners some of the city's best views. Floor-to-ceiling windows and large outdoor spaces are the norm in many Temple Hills homes. All the better to capture the ocean, coastline, adjacent canyons, and the city's lights in a single view.

Temple Hills' meandering streets eventually give way to the vibrant city center of Laguna Beach. The Village features a large portion of downtown, including some of the city's best restaurants and cafes, stores and galleries, and easy access to the city's expansive public beaches. Home styles are more varied in The Village than Temple Hills, though homeowners will not be disappointed with their selection in either neighborhood. Prices in both range from $2-$3 million to more than $10 million for properties with the most commanding views.
Three Arch Bay
Homes do not come available often, and when they do, they don't stay that way for long. While the whole of Laguna Beach is a genuinely spectacular place to call home, a few neighborhoods do rise above the rest. One that very well might rise above them all is the South Laguna enclave of Three Arch Bay. Encompassing nearly 30-acres of exquisite oceanfront property, the neighborhood is one of the city's oldest and most sought-after places to call home.
The gated neighborhood splits into two separate sub-divisions — the upper section is perched along the hillside, while the lower selection of homes claim prime oceanfront lots. As this area was developed much earlier than the rest of Laguna Beach, far more diverse homes are available. California Ranch, Craftsman, Spanish, beachfront cottage, and more modern builds are all offered.
Three Arch Bay doesn't short its residents on amenities either. In addition to the private, neighborhood exclusive beach along Mussel Cove (isolated from public access with high bluffs), the community includes a recreational area complete with tennis and basketball courts, a playground, and a resident-only park. Due to its coveted status and long history, prepare to pay a premium for the privilege of calling this section of Laguna Beach home. And even then, the house may require some high-level TLC.
Woods Cove
Located in the heart of Laguna Beach, in the Village area, sits the small community of Woods Cove. Offering some of the most dramatic properties in the neighborhood, Woods Cove is within walking distance to family-friendly Woods Cove Beach and
Ruby Street Park
and provides stunning coastline views of the Pacific from sprawling mansions along the hilltop. Homes in this area range from $2 million to over $15 million for larger estates.
Woods Cove sits between Moss and Agate Street along the Pacific Coast Highway, just south of Bluebird Canyon Road, and boasts many homes perches along the bluff, providing some of the best waterfront views in all of Laguna Beach. This community is relatively quiet and tucked away from the commercial districts of the neighborhood, but with a short drive down the mountain, residents have access to all of the luxury amenities that make living in Laguna Beach so desirable. The community's highlight is
Woods Cove Beach
, a private, sandy cove offering quaint ocean views and dozens of tide pools for exploration.
From family-friendly or private and secluded to low-maintenance living, the Laguna Beach lifestyle is far more varied than outsiders give credit. Of course, for those wanting the best of all worlds, there are a few neighborhoods for that too. But the above represents just a sample — if you're ready to explore more, we're prepared to help you navigate the best of Laguna Beach real estate.
From waterfront properties for sale in Laguna Beach to Dana Point, allow Mike and his team to be your guide when navigating Orange County's coastal luxury real estate market. Contact the
Mike Johnson Group
today to find your next dream home in Southern California!