Howdy, all! Wishing you a safe, loving, and happy holiday with your family, friends, and loved ones. For this blog post, we are going to speak about the different coastal communities to give you more context into which community would fit you best!

Along the southern coast of Orange County, California, sits a spectacular collection of cities and towns long celebrated for their opulent beachside lifestyle.

Located nearly equal distance between Los Angeles and San Diego, Corona Del Mar, Costa Mesa, Dana Point, Laguna Beach, and Newport Beach are sought-after luxury enclaves that offer a break from the more hectic urban environments of their neighbors.

It doesn't hurt that four of the five locales border the Pacific Ocean, while the fifth is close enough to see, smell and walk to it.

The five areas represent a departure from the denser, more urbanized population centers of northern Orange County and the bulk of Los Angeles County. As a result, you'd be forgiven for thinking these wealthy, predominantly residential communities are carbon copies of each other.

Nothing could be further from the truth.

Each of these Orange County gems brings something unique to the relocation table. All five possess enough differences — both significant and subtle — to make a challenge of choosing which of these communities you should call home.

Let's explore this spectacular coastal California setting to find your perfect Orange County community.
Determine your home buying goals
Before we jump into an overview of each community, it's essential to consider your goals for relocation or investment.

Orange County, much like the rest of Southern California, is a dynamic place. You can do urban or rural. Opt for a mountain retreat or choose a home closer to the ocean or one directly on the shore.

If you're planning on permanent residency, there are schools, local services, and amenities to mull over. Conversely, those looking for second homes or vacation condos will need to focus their search on a different set of parameters.

Vacation homes are income-generating powerhouses when they're close to the coast or popular amenities for tourists, but less so in spots off the beaten path that require a hike to the most popular destinations. In either case, if you also plan to personally use the house, which location will you be happiest in? And which will generate your desired income?

The same consideration applies to investment properties.

And here, it's more than just how you plan to use the home. Take into account price and resale potential. Can you recoup your investment even if the market sours for some time? Does the investment work with your finances? Timetable?

Regardless of where you buy in Orange County or the purpose for your purchase, set out your home buying goals and what you hope to achieve — not just with the immediate purchase, but three, five, or ten years into the future.
The OC and what it has to offer
Much like the larger Orange and Los Angeles County metropolitan area, our six cities and communities represent a number of different lifestyles. Though all are located within a short drive of each other, there's plenty of variety for home buyers.
Corona del Mar
Who's it perfect for: The Beach bums who like to be tucked away from the hustle and bustle of coastal OC - those who want to live a luxury-laden, private lifestyle. This little, tucked away hidden gem of OC is quite magical!

Spanish for "Crown of the Sea," Corona del Mar is the first stop on our tour of Orange County's seaside enclaves. Technically an oceanfront village within the larger coastal city of Newport Beach, Corona del Mar often garners a separate mention, as it was originally founded as a standalone development with its own post office before Newport Beach annexed it in the mid-1920s.

And while it's something of a disservice to call Corona del Mar a seaside suburb in Orange County, that's what it is. It just happens to be a genuinely spectacular seaside suburb of approximately 15,000 residents who all share the same idea that a beach village lifestyle is the best life of all.

Major attractions and amenities:
Gorgeous coastal setting, including Corona del Mar State Beach and Little Corona del Mar Beach
Upscale housing with a mix of styles ranging from restored cottages to highly detailed mid-centuries and coastal contemporaries with impressive wow factors
Vibrant stretch of upscale cafes, dining, and shopping along the Pacific Coast Highway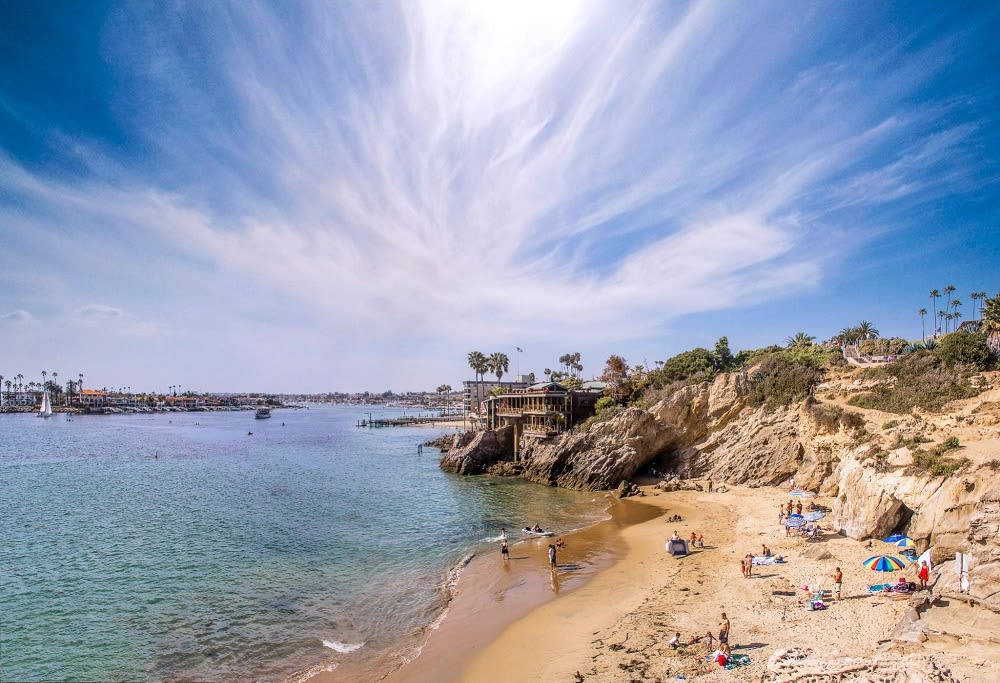 Costa Mesa
Who's it perfect for: Commuters; those who appreciate boundless high-end shopping and a vast array of things to do; those who like to be in the middle of the beach and 'happening areas' - especially good for the foodies!

The inland Costa Mesa provides residents the best of both worlds in Orange County. Straddling the imagined barrier between the county's north and south regions, Costa Mesa, with a population of approximately 115,000, is less than an hour's drive to downtown Los Angeles and less than a mile from the coast in Newport Beach. The housing is less glamorous than the coastal communities (though there are some stunners), but prices are more accessible.

Costa Mesa is a major commercial and business center. It's home to the fourth-largest mall in the United States and the headquarters for credit reporting agency Experian, chain restaurant El Pollo Loco, clothing stores Hurley, RVCA, and Vans, and the NFL's Los Angeles Chargers.
Major attractions or amenities:
South Coast Plaza, an upscale destination shopping mall of architectural significance that generates roughly a billion and a half dollars in revenue annually
Deep commitment to the performing arts, including The Pacific Amphitheatre and the Segerstrom Center for the Arts
The 23-day long Orange County Fair at the OC Fair and Event Center — one of the top 10 largest fairs of any kind in the country

Dana Point
Who's it perfect for: Anyone who appreciates a stunning home with a spectacular view and a Pacific Ocean marina minutes from their front door; those who love the quaint beach-y feel; those who love awesome Saturday farmer's markets!

Dana Point is one of the most picturesque stretches of the Orange County coastline. Located near Orange County's southernmost tip, the city of nearly 35,000 residents boasts a stunning landscape — rolling hills, seaside cliffs, plenty of lush green foliage, several popular beaches and resorts, and one of the region's top harbors: Dana Point Harbor. It's the ideal spot to charter a trip for whale watching or set sail for Catalina Island.

There are several high-end, ultra-exclusive gated neighborhoods throughout Dana Point, including the sought-after Strands at Headlands community. Many of the homes are set back from the water but retain their coveted ocean views.

Major attractions and amenities:
The Dana Point Harbor and Marina features 2,400 boat slips, over 50 shops, restaurants, harbor services, yacht clubs, and adventure operators. A complete redevelopment with improved shopping, dining, and boat facilities is underway.
Numerous annual events, including the Concours d'Elegance and the Festival of Whales.
Mature, gated neighborhoods with winding tree-lined streets and stunning homes across various architectural design motifs.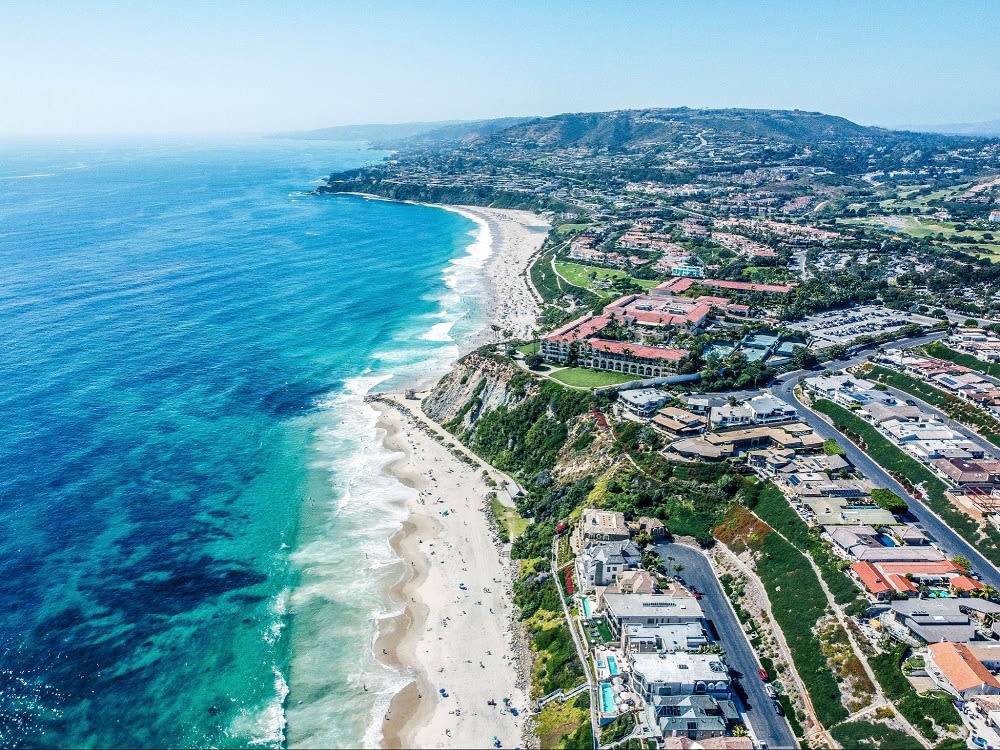 Laguna Beach
Who's it perfect for: Residents who are looking to really live the resort-life year-round; those who love the small-town art feel; those who appreciate nature!

Laguna Beach packs a vast array of beauty, upscale shopping and dining, and fantastic housing into its relatively small footprint. Primarily residential, the city does possess a vibrant commercial district along the Pacific Coast Highway. It's a great area to see and be seen and just a few steps from the ocean.

Very much a resort town, Laguna Beach also has a huge grassroots arts colony that is drawn to the region's natural beauty and coastal setting. So much so that the focus on the arts has made Laguna the center of the OC's arts scene. Many of the homes themselves are works of art, and there are a wide variety of residences available.

Major attractions and amenities:
The vibrant art scene includes the Laguna Art Museum, the Laguna Playhouse, the Laguna Beach Chamber Music Society, and the Festival of Arts Fine Art Show.
Sports and recreation include surfing, beach volleyball, and mountain biking in the foothills of eastern Laguna.
A standout school district — one of the best in the region.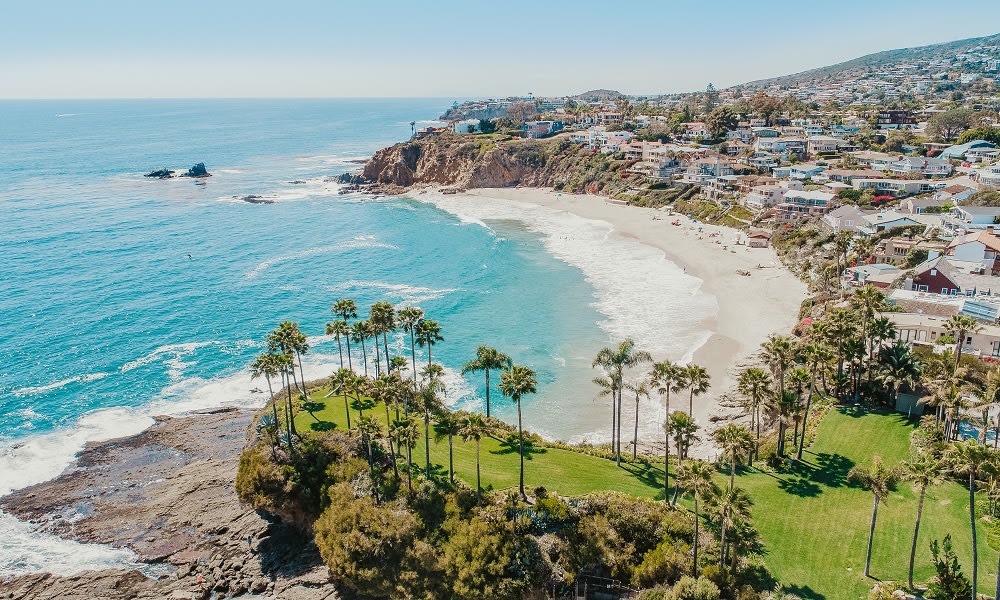 Newport Beach - Newport Coast
Who's it perfect for: Anyone who strives for (and can afford) the zenith of luxury coastal California living; those who appreciate grand architecture and vast spaces!

Arguably the most famous of all Orange Beach County locales — the popular television series The O.C. originated in Newport Beach along with many other TV shows, music videos, and movies — the city typifies the absolute best in upscale seaside living.

It's no exaggeration to say there is a wealth of activity and things to do in this city of 85,000 people — boating, biking, beaches and surfing, golfing, hiking, a roster of outstanding restaurants, and plenty of extravagant shopping opportunities.

However, most impressive is the bevy of luxury residential communities — grand homes in great locations. Residences range from well-appointed cottages to commanding estate homes with even more commanding views of the Pacific Ocean. There are few other places in California (or anywhere in the country, for that matter) with the high-end housing options found in Newport Beach.

Major attractions and amenities:
There are many things to do and places to visit, including the renowned Fashion Island at Newport Center, the Orange County Museum of Art, and the Balboa Peninsula.
Collection of exclusive residential enclaves, including several gated neighborhoods in Newport Coast.
An esteemed awarding-winning network of schools, both public and private.

If you're ready to explore the best of Laguna Beach real estate and need a trusted partner, contact Mike Johnson + Partners today to start your new, second, or investment home buying (or selling) journey.

From waterfront properties for sale in Laguna Beach to Dana Point or Newport Beach homes for sale, allow Mike and his team's years of experience and expertise to be your guide to Orange County's coastal luxury real estate market.