Picture this: you wake up to the sun reflecting off of a pristinely calm ocean streaming through the window. You take a morning stroll along the beach with your coffee before you head to work. When you come home, you have dinner on the patio with your family and enjoy the warmth from your outdoor fireplace. While these pastimes are often relegated to vacations, life in Southern California features this idyllic energy year-round. For residents of coveted Newport Beach real estate, Dana Point real estate, and Laguna Beach real estate, this lifestyle is a staple of the area they live and work in.
People flock to Southern California not only for the beautiful homes and charming communities but also to adapt to a slower, more refreshing place of life. Something about the ocean and the natural landscape imbues these towns with the reminder that life is meant to be savored. Families in this community have everything an upscale, residential area has to offer while enjoying a certain kind of peace hard to find anywhere else. If you're looking to purchase a plot of paradise in SoCal, here are the best neighborhoods to begin your search.
Laguna Beach
Laguna Beach is
as much for the art lover
as the beach lover. This colorful coastal town has a history as an art colony and takes pride in its cultural past. Art festivals, exhibits, and classes are a regular part of the city's calendar.
Laguna Beach has a carefree essence while still maintaining a pristine level of comforts and accommodations. Casual elegance is the defining factor of the town so residents can go from bar to beach and feel at ease without too much formality. The nightlife has a bright, upbeat style catering to young couples and professionals. Live music, beachfront happy hours, and date spots are all readily available in town. Laguna Beach real estate is also in close proximity to highly rated California wineries and breweries perfect for an enchanting weekend getaway. Residents can play as hard as they work right at home in their neighborhood.
Dana Point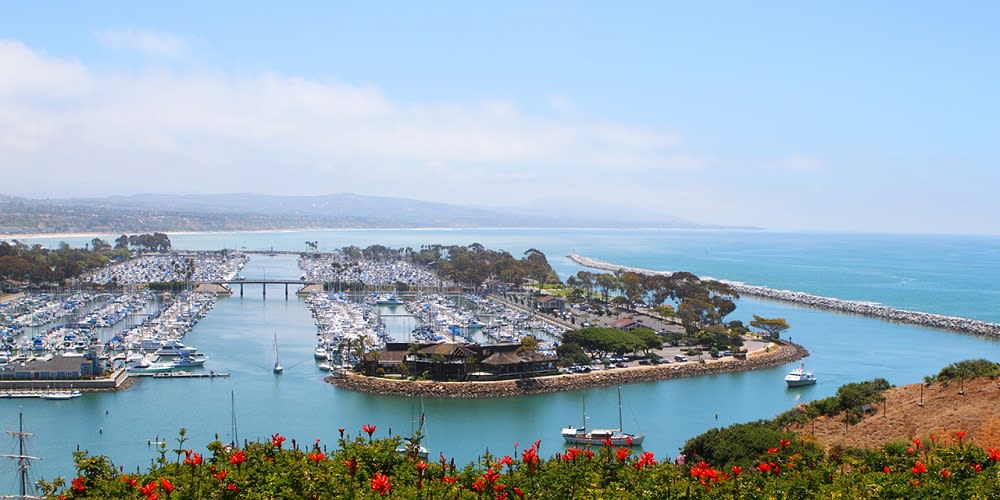 Dana Point is the perfect town for people who prioritize the delights of coastal living. The beaches and Dana Point Harbor are known for being the ideal oceanfront view, with a deep sapphire sparkle and clean white sands. Whales are easily spotted off the harbor while the rolling hillsides are a great place to picnic with the family and take a stroll.
Watersport pastimes are also popular in Dana Point. Parasailing, surfing, and paddleboarding are all common activities people in the community love to partake in together. Families in Dana Point will always have a fun activity to do on the weekends. Away from the coastline, bike trails are a lovely way for residents can enjoy the perfect Southern California weather. The golf courses are another highly rated element of life in town as well as an attraction for visitors.
The homes in Dana Point range from charming beach bungalows to luxury estates tucked into the bluffs. Dana Point is great for active people who love getting outdoors, as the local natural landscape is a marvel in and of itself.
Newport Beach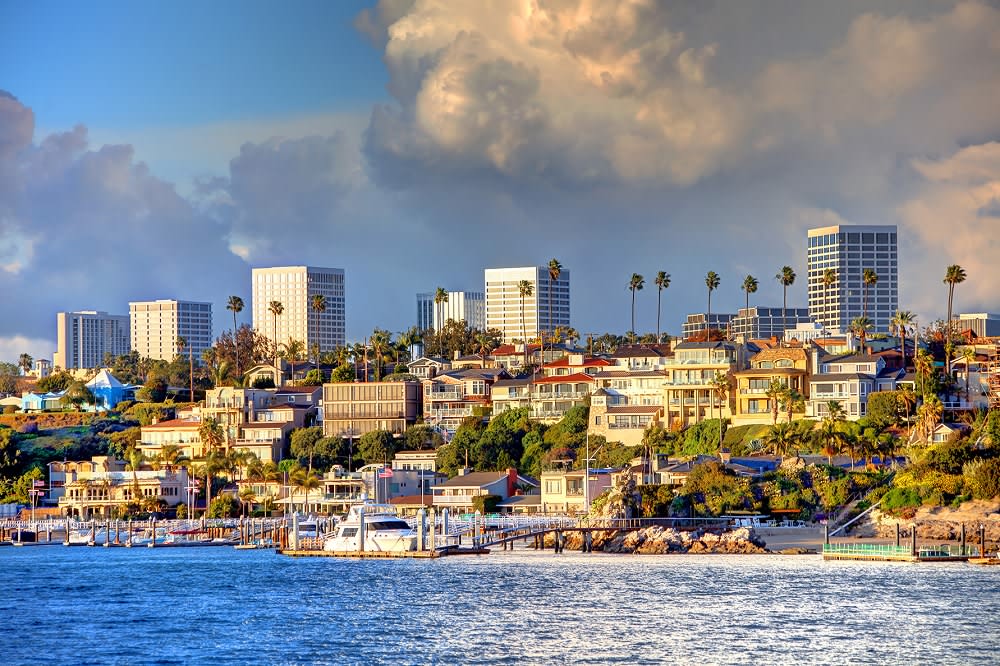 Newport Beach is often
rated as one of the best beach towns
in the country to live in on top of being one of the nicest areas of Southern California. Newport Beach has a surfside luxury to it, as it's one of the yachting capitals of the world. The restaurants, shopping, and recreation in Newport Beach are the best of the best, evoking the opulence of Southern France and the Amalfi Coast as much as the laid-back atmosphere of SoCal.
Stylish waterside restaurants and high-end shopping allow this beach town to be exciting while still being relaxing. The trails and nature preserves also make the town a destination for bird watching and hiking as well as lounging on the beach. Newport Beach real estate is a truly stunning array of modern luxury, featuring contemporary and innovative design, unique amenities, and abundant gorgeous ocean views.
Costa Mesa
Right behind Newport Beach is the community of Costa Mesa. This attractive community has a more metropolitan feel while still being very close to the coastline. The town has an abundance of entertainment from theater to music to performance venues making it ideal for locals who want more excitement and variety while living near the beach.
Costa Mesa is also great for singles, young couples, and working professionals since the town is a more convenient spot to be if you work in the area. The real estate here is made up of a range of property types for many lifestyles, from condominium complexes to luxury rentals, to townhouses and single-family homes.
As it's a metropolitan area, the dining and shopping scenes are varied and are great for residents who always want something new to do and try. Costa Mesa is near the beach, while also having a lovely array of parks and green spaces in the urban and residential areas. Unique, independent shops, as well as coveted shopping staples, are planted in the city. The neighborhoods have eclectic and funky
establishments
which give Costa Mesa a colorful excitement. This delightful city is a short drive from Huntington Beach, Newport Beach, and Corona Del Mar as well.
Beachfront property like that of Newport Beach real estate is a much-desired purchase for those who want to be right on the coast. Being so close to the beach is a benefit that has a resounding impact on the quality of life for residents of coastal Southern California. The recreational opportunities outdoors are not only great for your health but a wonderful bonding opportunity for families and nature lovers alike. If you are looking for guidance on beachfront property hunting, you can reach out to local agent
Mike Johnson
for the best guidance on Newport Beach, Dana Point, and Laguna Beach real estate as well as the surrounding neighborhoods.