1. Treasure Island Park
Treasure Island Park is nestled in South Laguna Beach and offers visitors an array of activities and amenities. Several beautifully landscaped walking paths and benches along the trails are perfect for taking a break while staring off into the crystal blue water. This beachfront is also an exceptional location for bodyboarding, body surfing, paddleboarding, skimboarding, snorkeling, tide pooling, and more.
The park is truly a lovely beach to take a stroll or dive into the salty sea. Bathrooms are available to patrons, and dog lovers will appreciate that on-leash pups are allowed on the beach from mid-September to mid-June. Treasure Island Park is open from 5 AM to 1 AM, making it a perfect spot for beach day trips and even for friendly gatherings after dark. When seeking a beach where you can enjoy endless aquatic fun, look no further than Treasure Island Park.
2. Victoria Beach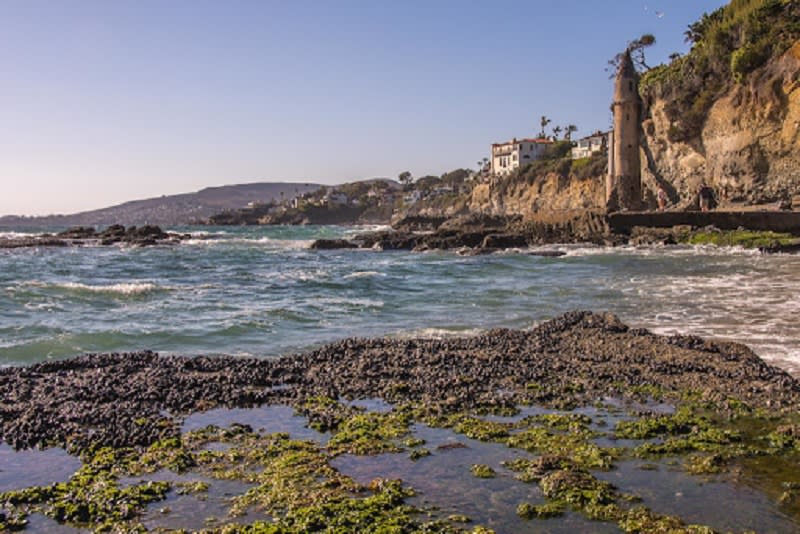 Victoria Beach is a hidden gem near Laguna. The north end of the beach can be accessed via a staircase between two residential homes. Alternatively, the end of Dumond Drive has an emergency access driveway and pedestrian ramp that leads directly to the south end of the beach. Fun activities to undertake here include body surfing, skimboarding, scuba diving, tide pooling, and sunbathing.

The world-famous Pirate Tower makes Victoria Beach a must-visit. This intriguing 60-foot concrete tower and house atop the bluff were built in 1926. A circular pool south of the tower fills with water and sand based on tide levels. To visit these fascinating structures and enjoy a relaxing day of lounging on the sand and diving, head to the waters of Victoria Beach.
3. Crescent Bay Beach
Experienced scuba divers and snorkelers feel at home at Crescent Bay Beach. This expansive beach features two locally-loved offshore scuba diving and snorkeling areas, Seal Rock and Dead Man's Reef. However, swimming can be dicey at Crescent Bay due to riptides, so leave the water sports to well-seasoned patrons and opt to bring a picnic and soak up the sunshine instead. However, daredevils go skin diving, bodyboarding, body surfing, and more.

Crescent Bay closes from 1 AM to 5 AM, making it an excellent location for post-dinner strolls with friends or fun beach days with the whole family. In addition, there is a large rock off the north point of the beach about 120 yards offshore known as Seal Rock, as seals and sea lions seek sanctuary here. Whether you desire a calm oceanfront day of digging your toes in the sand or a thrilling day of scuba diving, Crescent Bay Beach is an ideal site for you.
4. Crystal Cove State Park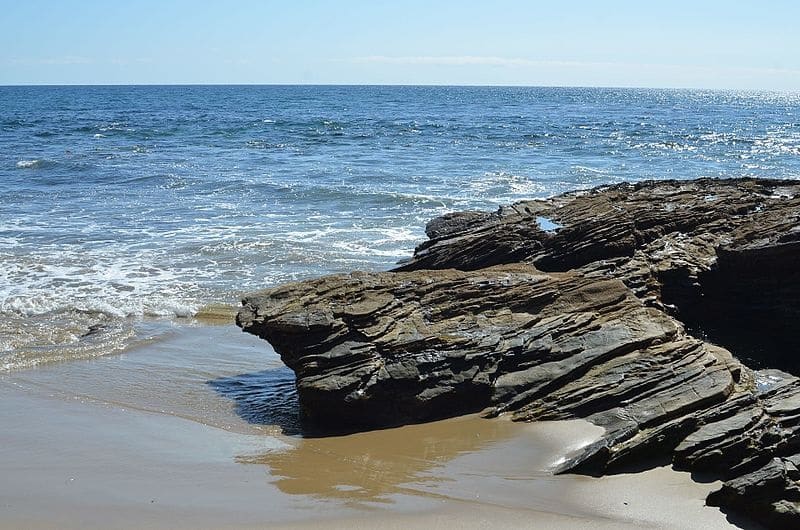 Crystal Cove State Park offers more than 2,400 acres of lush green preserved land for hiking and biking. However, the park has no lack of sand either. Four different beaches are waiting to be explored by you. Moro Beach is a popular destination for day use, bodyboarding, stand-up paddleboarding, surf fisherman, and kayakers. Access the second beach, Reef Point, via the quarter-mile multi-use trail. Here you'll find a stairway leading to Scotchman's Cove and a southbound ramp leading to the excellent body surfing spot, Muddy Creek.

The Historic District is a great spot to view the rustic coastal cottages of the 30s and 40s, enjoy the pedestrian crosswalk at the Los Trancos signal light, and even rent a cabin for an overnight stay. Finally, relish the stunning scenery of coastal bluff foliage and wildlife along the multi-use trail along the coast of Pelican Point. All oceanic activities have designated zones, so be sure to check the signs. There is so much to explore at Crystal Cove State Park, so be sure to stop by to revel in the stunning beaches, cherish a few nights of coastal camping, or even lodge at the beach cottages.
5. Heisler Park Laguna Beach
If you need a gorgeous location for your wedding photos, Heisler Park is just the place. The park's gazebo is a premier spot for taking captivating photography with an ocean backdrop. Heisler Park comprises four beaches: Diver's Cove, Picnic Beach, Monument Point Beach, and Rockpile Beach.

There are many amenities and activities provided to park goers, including grills ideal for family cookouts, grassy areas for picnics and play, picnic benches, pedestrian paths, restrooms, showers, the pavilion, and the Monument Point Veterans' Memorial. Head to Heisler Park for a picnic, a stroll along the garden path, view majestic whales from the Monument Point Telescope, or rent the gazebo to capture memorable photos with your loved ones.
6. Aliso Beach Park
Water sports enthusiasts and families alike love the possibilities of Aliso Beach Park. This expansive beach has a playground for your kids, restrooms, outdoor showers, a food concession stand, and plenty of outdoor recreation opportunities. In addition, there are several fire rings to enjoy a lovely fire with some friends at the beachside. Bring your surf and skim boards to catch some gnarly waves or simply swim about the tides. Aliso Beach Park is the perfect place to grab a picnic table, watch your kids romp around the play area, and catch some sweet surf.
7. Main Beach Park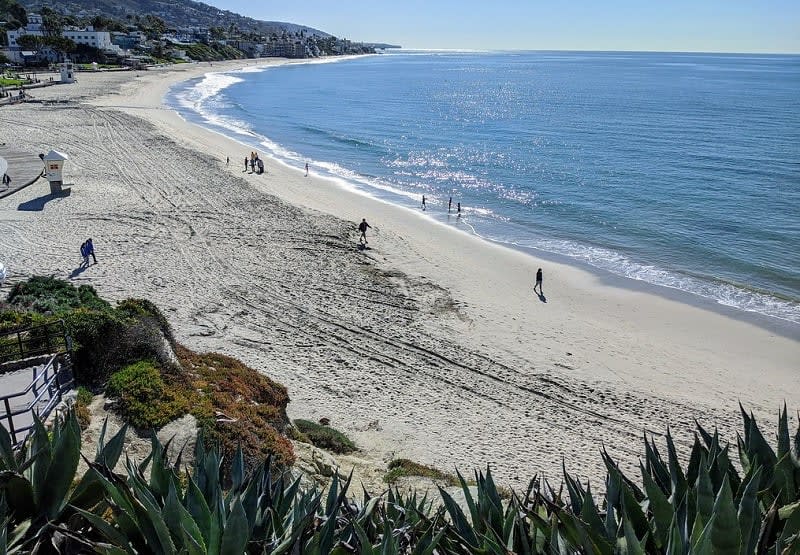 This centrally-located sandy beach provides guests with a broad range of pastimes. Main Beach Park features a boardwalk, basketball courts, sand volleyball courts, restrooms, showers, picnic tables, a play area for kids, and an extensive sandy beach ideal for sunbathing and passive beach enjoyment.

Surfers and swimmers, beware. Surf is prohibited during the summer season, as rip currents make surfing too dicey. However, you'll feel safe knowing there are lifeguards on duty watching over the beach from the mid-beach tower. Dog walkers can also bring their on-leash pooches. Given the vast array of ventures available to Main Beach Park guests, it is an exceptional location for friends, families, and dog lovers alike.
8. West Street Beach
West Point Beach is well-known as Orange County's most popular gay beach. An accepting place with plenty of shoreline for swimming and leisure, this spot is a neighborhood treasure. There are many volleyball courts at the north end of the beach, with a few on the opposing end. Aliso Point features extraordinary rock formations and terrific tide pools when the tide is out. Be sure to bring your team for some friendly volleyball competition, the suntan oil for catching rays, and your best friends for a fun-filled day by the ocean.
9. Brooks Street Beach
Known to be one of the best surf spots in Laguna, Brooks Street Beach is located at the end of Brooks Street. You can watch brave surfers riding waves at the sitting area overlooking the beach. Indeed overtaken by surfers, head to a different local beach if you're looking to swim or bodyboard. However, you can partake in some tide pooling or scuba diving when the surfers aren't overwhelming the shore. Though there aren't any facilities at this location, what more could a surfer need than sand, coastline, and bodacious waves? So bring your surfer friends down to Brooks Street Beach for your next surfing adventure.
10. Cress Street Beach
If you're looking for a tranquil seashore, head to Cress Street Beach. This charming and secluded beach is an excellent location for laying under the beaming sun, working on your tan, and bringing a picnic.

Swimming here isn't out of the question, but just be cautious of the rip currents, as they tend to be strong. Novice swimmers need not dive in. Instead, sit on one of the benches to reflect on the week's events, and meditate on the waves crashing upon Cress Street Beach.
11. Table Rock Beach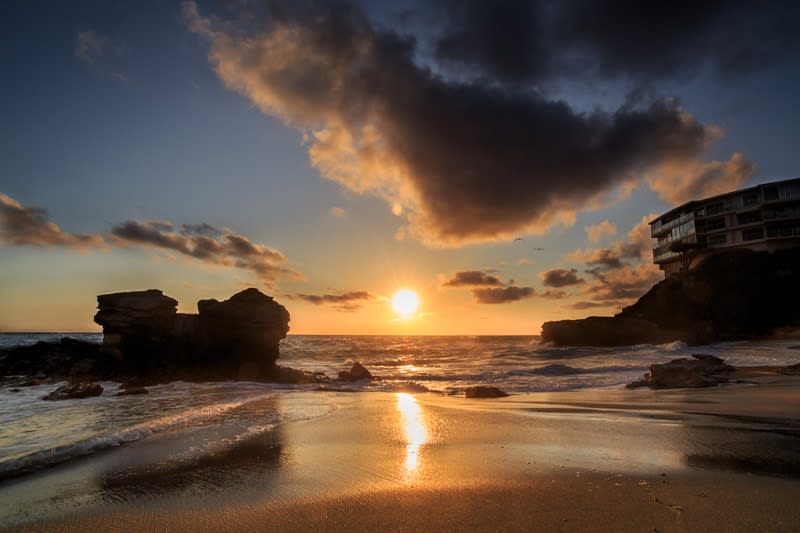 Locals adore Table Rock Beach for its tucked-away nature. The entrance is not an easy find but is worth the quiet beachfront that awaits you. Find the entryway by turning west onto Table Rock Drive, and follow it until you reach Bluff Drive, where you'll see the access point on the left. The long, steep stairway leads you down a bluff to the north end of the beach.

This sandy beach features a deep cove with stunning luxury homes overlooking the sandy shore. This location is excellent for photography, snorkeling, skimboarding, and sunbathing. Head to Table Rock Beach for a peaceful escape from life's troubles.
Are you in the market for Laguna Beach real estate? Ready to visit these premier beaches and lead the life you've been envisioning? Contact Mike Johnson Group real estate professionals to help your dreams come to fruition. With 70 years of experience, this esteemed team will undoubtedly guide you through an optimal journey to find the ideal Laguna Beach home for you.